Perfect Practice Putting Mat Review
This post may contain affiliate links. As an Amazon Associate I earn from qualifying purchases.
This Perfect Practice Putting Mat Review covers the pros and cons of this Dustin Johnson-endorsed mat. I've been putting on this mat in my office for a year and have found it's a good tool to improve my putting and might be the right fit for you too.
Design
One of the best things about the Perfect Practice Putting Mat is its great look. It's a putting mat that I'm happy to leave sitting out in my office, ready for putting practice anytime.
The wood and fake grass mat look great together, and the build quality is mostly excellent. The only issue I've run into so far is the border around the mat separated a small amount, but I was able to fix this myself.
The mat comes in three sizes:
Compact – 8ft x 9in wide, with a single small hole
Standard – 9ft 6in long x 15in wide, with a large and a small hole
XL – 15ft 6in x 15in wide, with a large and a small hole
I purchased the compact version of this mat due to it fitting better in the room I'm using it in. I feel like it's long enough to get good practice on hitting straight putts up to around 6 to 7 feet.
Features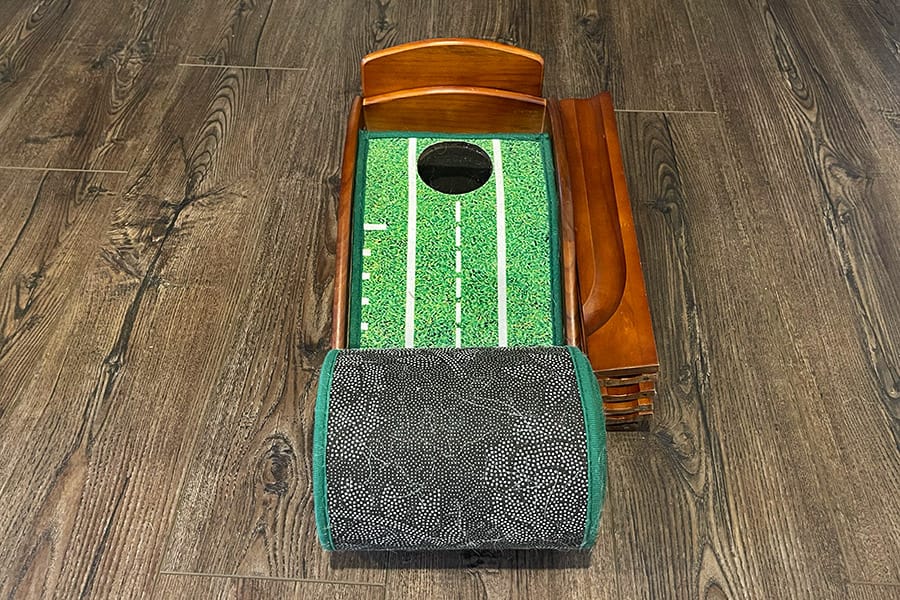 This mat has markings for distance and track lines to help with alignment. These are very helpful for ensuring my putter face is aligned correctly and the ball is tracking where I expect it.
These mats feature both regulation-size and small-size holes. I find the small size helpful when practicing, as you're hitting a straight putt most of the time, and it's important to work on being precise.
The end of the mat has an upward slope, which some people have complained about, but I find that it doesn't slow the ball down too much, and it does help train me to putt a little more aggressively to make sure I reach the hole.
Finally, the ball return system is another great feature of the Perfect Practice Putting Mat. I find the return system will vary on how far the ball returns, sometimes rolling to the end and other times midway down the track. Regardless, it does work well overall.
Speed & Performance
Perfect Practice says their mats roll at 10-14 on the stimpmeter depending on what is beneath the mat. If you put the mat on a hard surface, it'll roll faster, while carpeting will make it roll slower. I find that on my hardwood floors, the speed is comparable to the course I play, which is moderately fast.
I find that the mat rolls true as long as the surface beneath is flat. When the mat arrives, it takes a bit to flatten out, mostly affecting the far side of the mat staying curled up. Placing a book on the end will help it flatten out quickly.

Putting mats are greatly affected by the surface beneath them. So before making a purchase, ensure you have enough room and that it's flat.
Putting Mat Drills
One of the best drills to do with this mat is the ladder drill. Get three or four balls and place them two feet apart (e.g., 2ft, 4ft, 6ft.) Then put them in order and try to make all three. This helps hone your distance control.
Another useful thing to practice is your alignment over the ball. If you get a putting mirror, you can realign your eyes to the same spot every time and make sure you see a straight line to the target.
Perfect Practice vs. WellPutt
I own both of these putting mats and find them both excellent. WellPutt has some games that you can play in trying to roll the ball to different hole marks and distances, which is a fun way to practice. The advantage of the Perfect Practice is having an actual hole to hit and a return system. With the WellPutt, you either need the space to hit the balls in both directions or collect the golf balls after hitting them.
Pros
Great looking design
Rolls true and has real holes
Has helpful alignment marks
Cons
Side stitching can fray
The ball return is slightly inconsistent
Perfect Practice Putting Mat – 4.2/5
The Perfect Practice Putting Mat is one of the best-looking putting mats on the market. It rolls true and is a fun training aid.